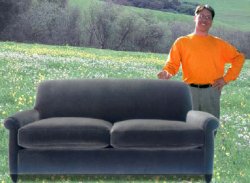 Hello and Thank-you for the opportunity to help you see and experience a more beautiful life. Personally for me, my start on this design-journey became aware to me through someone elses eyes. I was told by someone very aware and very savvy, that me, Joseph Barbotti, recently graduated in fine arts from college, should pursue a career in Interior Design.
I was told, "Joseph, you are a born natural". I simply replied, "You want me to tell people where to put their furniture?" The rest is truly history. That personís name is Harold Klemow and that happened in 1972 and I have loved every project, every person, every home, every space and every minute of my 30 yr. career.
One of the biggest joys I receive from my work is how quickly the happiness comes over someone when good design comes to them. It is great! The knowledge that what happiness will continue and go on and grow for them as time goes on is great! That simple joy of mine will now come to you. I once again, Thank- You, for the opportunity and do enjoy it...Itís Great!
Very Sincerely Yours,
Joseph Barbotti

Joseph Barbotti